Queen's University Belfast

Queen's is recognised as one of the UK's leading research intensive universities and has a global reputation for excellence.
With its global mission to equip leaders to transform local and global business, Queen's University Belfast seeks to influence business and society through leadership and core values.
DigitalCampus delivers accredited, certified short courses to help individuals and businesses accomplish more. These digitally-enabled courses are multidisciplinary, and revolve around the University's core strength faculties. At DigitalCampus, we combine the best of Queen's University with our blended learning in a seamless journey to deliver empowered learning that helps drive a graduate mindset.
Accomplished amplifiers. Achieved!
Accomplished amplifiers. Achieved!
"We feel very supported when working with the LRMG team. They are always ready to listen and work with us to meet our Learning and Development needs. Partnering with LRMG has been a great experience."
Catherin W. radeny
Manager: Talent Learning & Development
"We feel very supported when working with the LRMG team. They are always ready to listen and work with us to meet our Learning and Development needs. Partnering with LRMG has been a great experience."
Catherin W. radeny
Manager: Talent Learning & Development
"We feel very supported when working with the LRMG team. They are always ready to listen and work with us to meet our Learning and Development needs. Partnering with LRMG has been a great experience."
Catherin W. radeny
Manager: Talent Learning & Development
The course has exceeded my expectation as this was the first online course I've completed. The module zero content clarified and covered a lot of what to expect and clearly defines the process. The complete course was relevant, informative, and gave me a lot of insight and the foundation needed to help me in my future roles. It has given me the understanding of terms and techniques I experience while deployed in the project team. Indeed, the DigitalCampus courses are credible, accessible, and applicable. Well done to the team. I'm looking forward to advanced project management courses.
The flexible learning has been a refreshing experience. The video seminars have been very informative and educational. It has put the whole environment of operations management in a broader context for me. We are currently doing Lean and Six Sigma training in my organisation. This course has put these tools into the context of the broader organisational objective as opposed to just a functional improvement effort. This has been one of the best learning experiences for me.
DigitalCampus has definitely given me the courage to do online courses more often as it showed me it's not as overwhelming as one would think. I am a big introvert that struggles to speak and say my say, however this online course gave me courage to post my opinions. The way the modules are set out and explained makes the work much more understandable and feel easier somehow. The videos are a nice way of learning as you can watch the video again if you missed something. Thank you DigitalCampus for providing me with a very good course, knowledge, and interaction! Before I started the course, a few people told me that this was an excellent course and man were they right!! 🙂
At first I was nervous but after module two I started enjoying everything about the course, and now I have a better understanding of operations management. Having the Wits brand in my CV will be a huge boost in confidence; the knowledge will make me highly marketable.
The course has indeed exceeded my expectation, I had a completely different understanding of what operations management was, only to learn that it is something else. I enjoyed the course as this has opened my understanding and mindset to so many prospects. The journey has been an amazing one; I've learned so much and am sad that it has come to end, however I will be taking all that I have learned from the course which is a lot. Thank you!
My initial thoughts of the course were that it will be one of those typical courses where you learn but will not be able to apply what you have learnt. I was however pleasantly surprised. I learnt so much that I am able to follow and give input in our budget planning sessions. This course came at the right time for me. I understand the finance function a little bit better and am more confident and able to participate in discussions I would not have before. I will now be able to put together my own budget and be able to advise line managers on their own budgets.
This course has exceeded my expectations. It is simple and versatile. I love that I can study anytime and anywhere. It makes learning so much more interesting. The assignments are also very clear and concise. The whole layout of the course is very clear and accessible. They say knowledge is power and that is very true, and with DigitalCampus it's so simple to achieve one's goals. I will definitely be thinking of studying with them in the near future and will definitely recommend DigitalCampus to anyone.
My initial expectation of the course was that it would be difficult to understand and apply the accounting methodologies via a digital platform. The DigitalCampus platform was an awesome digital learning experience, with various channels available for support and assistance. The platform was easy to navigate and understand. DigitalCampus has indeed assisted with continued development and learning, providing a platform where learning can take place in the comfort of your home. The Wits course empowers me with the needed learning tools that can be applied within the business world and develop me for future tasks.
This course has been a real eye opener. Every week I found myself being more grateful for being chosen for this course. My expectations have been surpassed. I have been reminded about the future plans I have for myself. I've been mentally stagnant. Doing this course and sacrificing some time to complete it has shown me there is a lot more I can achieve, without the thought being too daunting. Amazing!
This course has empowered me so much that I can see myself as a logistics manager in the future; the organisation I will manage will never fall apart because I have learnt all the types of wastes and how to avoid them so you can benefit in business. I would like to say thank you to DigitalCampus for this opportunity, honestly I never thought that I would receive such information. Now I'm more excited in doing my job and looking forward to growing in my department.
I have an aspiration of starting a family business and the idea is gaining momentum because of the new things I have learned from this course. Proper planning, taking time to do research, and testing the water are some of the things that made me realise that running a business demands leadership, patience, empathy and dedication. An organisation needs to improve its products and services to meet ever-growing changes or demands. You have revived my passion to study further. Thanks to the DigitalCampus team.
As a baby boomer, I did not always understand why the millennials are always so busy on their phones and social media, and why they didn't interact face-to-face. This course has opened up my understanding! I am a corporate account manager and have been in the field for around 29 years. I have really learned a lot about customer relations and the importance of customer satisfaction. I think it has made me realise I have to go back to basics and not take clients for granted. The course has impacted the way I treat my clients and has had a direct impact on my sales figures.
My expectations were not only met, they were exceeded. Before this course I had basic knowledge of communication skills in the business world. This course has not only confirmed a few things that I was uncertain of but has helped me realise that it's not only in the work you do but how you present yourself and actively communicate in the corporate world that offers recognition. I really enjoyed this course and it was easy to access. DigitalCampus has empowered me to achieve my future goals by creating a clearer understanding of business communication.
English is my second language and this course assisted me by improving my grammar and fluency, especially working for a corporate company where it has enhanced my professionalism. This progress is a major motivator to continue my path towards achieving my goals. Business and life are all about learning, growing, and evolving; learning to embrace flexibility and allowing for a time of re-evaluation to take place. This course enhanced my skill set and I have gained a lot of new knowledge.
This course has exceeded my expectations as I am a visual learner; the added aid of the video content made it so much easier to understand. It was accessible at any time, and I also had the benefit of immediately applying the knowledge and skills to my day-to-day work and personal environment. DigitalCampus has given me the confidence and courage to empower myself. I absolutely loved the fact that the course was so accessible, and I enjoyed the interaction with other learners. I will always be grateful for this opportunity, as I grow within our organisation.
Initially I thought that there would be no way that this could be done, however, the way the course has been set out exceeded my expectations. The fundamentals of HR and management working together to achieve the success of our organisation's goals has been provided through the course content. Thank you to DigitalCampus and Wits lecturers for making online learning so engaging and being so supportive.
The course has provided me with an understanding of the digital landscape and the importance of continued monitoring and responsiveness to client needs. With the knowledge I have gained through this course I feel a step or two ahead of the market. I have learned that old dogs can still learn new tricks. Thank you all for your prompt responses and the efficient manner in which your course is conducted.
For me it has helped me a lot, I have learnt most of the things I never learned before in accounting and I was very interested. I am glad I chose this course. Now I am confident and ready to go and apply what in have learnt on this course. I always had a problem when studying accounting because I never had a good start or base. But now I can actually work on my own and it's all thanks to this course.
This was a brilliant course and just what I sought in order to understand the financials of a business operation better, especially from a company secretarial perspective. Initially, I thought that 12 weeks was a long time, but how time flies. It was indeed challenging to try and complete weekly assignments while holding a full-time job (and being a parent, housewife, and going through November exams with my child). However, I had to make a plan. Overall, this was well worth it from a learnings (and cost) perspective.Thank you!
Coming from a totally different career background this course has assisted me in many ways. I have been able to address any questions I have had over the past six months of being here, and more importantly I have been able to upskill myself which has been great. I am able to see a future in my career which is so exciting after 22 years of doing only one other career.
QUEENS courses that our clients love!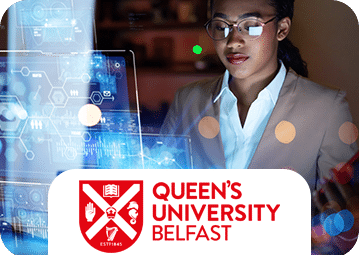 Strategic Change Leadership for Digital Transformation